Brent Seltzer recording in audio bay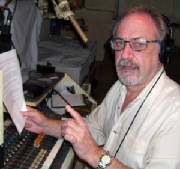 "Still At Large" Syndicated Radio Commentary
Brent Seltzer
is a familiar name to many Southland residents who remember him as one of the most popular radio news and talk personalities throughout the 70's and into the 80's, through the 90's he was host of

CityView35's "Los Angeles Tonight" .

Currently he can be seen hosting "Non Profit Profiles" on CityTV of Santa Monica and LA36.

His quick sense of humor and remarkable ability to bottom line the most complex technical stories made him the first of the "Street Talk" story tellers of Los Angeles Media.
In the early 1980's, when most folks weren't quite sure what a computer was, Brent Seltzer produced the first video tape instructional series for the most popular business computer hardware and software.

His original plain-language approach (including a few rubber chicken sight gags) brought him the support and distribution of the original home video company, Embassy Home Video.
Since 1985, Brent has been a partner in McDonald Media Services and has served as executive producer of all the media coaching programs intended to teach corporate and public service companies how to interface successfully with the media.

He is also our go-to-guy when big corporate execs want to create stakeholder presentations that need to different.

Seltzer has received many awards from Billboard to Golden Mikes, and was the youngest person ever nominated for a Peabody Award in 1970.
Brent continues to stay behind the microphone as one of the more popular voice-over performers in Los Angeles. McDonald Media Services maintains its own audio and video facilities, making Brent easily available to clients.
Before there was click and order…there was brick and mortar. Brent Seltzer was born in Wilmington, Delaware, where everyone goes to incorporate because of low corporate taxes and to shop because of no sales tax. His family was in the retail business, so Brent is a man who knows his over-the-counter products and how to make the customer right.
Contact Brent Seltzer at brent@mcdonaldmediaservices.com